Getting here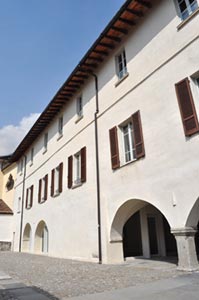 MUPRE-The National Prehistory Museum of Valle Camonica

Via S. Martino, 7 - 25044 - Capo di Ponte (BS)
Tel. +39 0364 42403
email: mupre.capodiponte@beniculturali.it

How to get here:
By car, from the south
A4 Motorway/Freeway: exit at Seriate or Rovato; road SS42 (Tonale andMendola), direction Passo del Tonale, exit Nadro-Ceto, Capo di Ponte, Cimbergo-Paspardo - Rock art sites and follow signs for Capo di Ponte.
By car, from the north

From the Aprica Pass or Tonale Pass, after reaching Edolo continue on road SS42 (Tonale and Mendola) direction Brescia; exit Capo di Ponte-Sellero direction Capo di Ponte.
Parking
Cars/automobiles: in Via S. Martino, near the museum, and in Via Aldo Moro, next to the school buildings.
Cars/automobiles and coaches: on the outskirts of Capo di Ponte, by the InfoPoint.
By bus

Various bus services stop in Capo di Ponte
By train

Brescia-Edolo line, to Capo di Ponte station